Daran was the guest speaker at our 2021 AGM. What follows is his "official"presentation; however most of the talk was taken up with discussion of the current dispute between NZBus and the Tramways Union which has affected bus services. Unfortunately I don't have notes on that part of the talk, which was really interesting about the differences between the parties and what the Regional Council can (and can't) do about it.
Good afternoon and thank you for the invitation to speak at your Annual General Meeting.
Your meeting today is very well timed.
Right now we are consulting on our Greater Wellington Long Term Plan which sets our direction and budgets for the next 10 years.
There is one week to go before consultation finishes. So as I talk, think about any questions you would like to know more about, so that you can write your submission!
We've got some big opportunities in our region, and some big challenges as well.
So the Long Term Plan has identified four strategic priorities or guiding lights for us to focus on:
Responding to the climate emergency. We want to be carbon neutral by 2030, and climate positive by 2035. (Climate positive means we are removing more carbon from the atmosphere than we are putting in.)
Improving outcomes for mana whenua & Māori. Our Māori Outcomes Framework shows how we'll work with our mana whenua partners to deliver consistently for Māori communities
Adapting and responding to the impacts of COVID-19. We want to lead the way in supporting our region through the COVID-19 recovery, transitioning to a sustainable, low carbon economy
Aligning with Government direction. Central government is setting some big environmental goals. Some are still evolving, and several align with what we're doing already. We plan to be in the best position to respond well.
So these priorities are the lenses through which we will look at all of our business over the next 10 years.
We want them to shape our thinking, planning, relationships and delivery across all our functions – public transport, bulk water supply, flood protection, regional parks, environmental policy and regulation, harbours, regional leadership in planning and economic development. We're also the majority owner of Centreport; you might have seen us commenting on the future of the harbour development and the ferry terminal.
Today I'm going to focus on public transport and water supply infrastructure, and their connection to our wider environment.
We run the Metlink public transport network over buses, trains and ferries, from Otaki & Masterton through to Wellington City.
We do this to keep people moving in our region.
If public transport works well then people can move around easily with a low impact on the environment.
The network is that it's integrated over bus routes, four passenger rail lines, the harbour ferry service and total mobility. So we do a lot of work around scheduling and timetabling to fit everything together. Our staff are at the end of the phone or computer when you contact the Metlink call centre. We contract all the specialist operators to run the buses, trains, ferries and Total Mobility vans across the region.
We develop and maintain public transport infrastructure including railway stations, the train maintenance depot, bus and ferry shelters, signs, and Park & Ride facilities.
Because we are focussed on becoming a smarter, cleaner region, we do a lot of work to encourage more people to travel by bus, train and ferry, especially at peak times.
Funding
Passengers, ratepayers and road users all help fund these services through fares, rates and a subsidy from Waka Kotahi (the New Zealand Transport Agency). The fare you pay when getting on a bus, train or ferry only pays about 40% or the cost of running the service; the rest of the funding comes from our regional rates and the government.
Continuous improvement
We've come a long way over the last 5 years; especially since 2018.
Late last year we Implemented a range of bus network improvements arising from a review of the 2018 changes; you may have experienced some of them yourself.
There have been plenty of other wins as well such as: (pick 3 of the points below)
11% increase in the size of our bus fleet
45% more bus services during weekends
11 EV buses and we'll have at least 93 more by 2023
New bus hubs and shelters
Snapper over the entire network
25% discount off peak and for tertiary students
The best Covid PT recovery across NZ
Significant improvements in on-time services and customer satisfaction levels
Problems persist. a surge of bus cancellations since December and unfortunately this has continued into 2021. It's caused by driver absenteeism & driver shortages.
We're working with the union, bus companies and Waka Kotahi to help resolve these challenges and make bus driving a more attractive job:
Improving wages & conditions of drivers – recently we've agreed that all Wellington bus drivers will be paid the Living Wage of $22.10 per hour.
Resolving the "split shifts" situation where drivers do not get paid in the middle of the day between the morning and evening peaks.
Our vision for a world class public transport system.
The great thing is that our region already has the highest per capita public transport usage of any metro area in NZ so we want to build on that strong culture.
To get more people using public transport we need services that are more reliable, more accessible and more convenient
So that means:
more services and capacity,
better connections between centres and
better customer experiences
A new bus service between Wellington Station and Wellington Airport.
an integral part of the Metlink network rather than the standalone commercial Airport Flyer run by NZ Bus up until late last year.
To do this Metlink has to step through a very prescribed process.
Right now we are setting up a formal unit (a group of routes) to provide the service from the Airport to the Station.
We've heard a lot of comment through submissions to our Public Transport Plan around whether this should be extended to the Hutt Valley, like the original Airport Flyer.
One major issue resulting from that commercial history is that we have no customer data available to base our future decisions on.
We are starting from scratch, on the basis of anecdotes and observations. So you may well see an evolution of this service as we learn more about the way it is actually used.
Following a decision and because there is a lot of planning and tendering still to happen, the earliest we will have an Airport bus service will be mid-2022
Decarbonising our public transport fleet is a large part of our plan for carbon neutrality by 2030.
We're aiming for the highest proportion of EV buses of any region in NZ and are planning for all our core service buses to be electric by 2030.
Finally we will have a 21st century integrated ticketing solution, rather than clipped tickets. This is taking a while as we are working with Waka Kotahi and other councils around NZ to get a single unified system for public transport ticketing. This offers many benefits eg economies of scale, avoiding duplication but it is a lengthy exercise.
And of course we want to get Let's Get Wellington Moving up and going.
This is a massive programme of multi-mode access from Ngauranga Gorge to the city, the port, the hospital and the suburbs which will offer huge benefits to the region.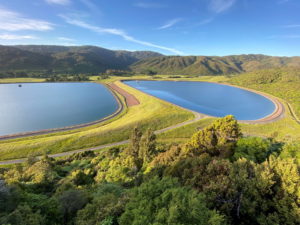 Water
Since 1989, the regional council has owned the bulk water supply network
Half the cities' water comes from the intake at Kaitoke Regional park, the rest from the Waiwhetu aquifer at Waterloo, and Wainuiomata
The city reservoirs, pipes to and from homes and businesses & wastewater treatment infrastructure are all owned by the respective city councils;
They are facing huge challenges with aged infrastructure, a history of underinvestment and population growth.
They share these problems with councils all around NZ – there is a massive backlog of underinvestment, aging infrastructure, skills shortages and obvious breakdowns and breakages
GW has been careful to maintain investment in our water supply assets, and not defer maintenance. So we are not playing catchup to the extent that the cities are having to cope with.
However we are still part of the joint effort to supply water to a growing population while reducing leaks, our carbon emissions and overall environmental impact. It's a big job!
While we face this challenge in Wellington, the 2016 Havelock North water crisis was the catalyst for the very significant Three Waters Reform proposed by the Government. (3 waters – drinking water, storm water, waste water). However the issues have been bubbling up for years, aggravated by the high cost of infrastructure and chronic skills shortages.
The government is seeking a number of core outcomes from the 3 waters reforms
safe and affordable drinking water;
improved environmental performance
infrastructure to support housing, urban and economic development;
addressing infrastructure deficits and resilience; and
More efficient service delivery, with benefits for investment, employment, and productivity.
We are expecting major announcements over the next few months along the lines of:
Ownership and management of all drinking and wastewater assets will sit with a small number of large water management authorities.
So all those pumps, pipes and treatment plants now owned by councils across NZ will move away to these new public bodies.
A separate drinking water regulator (Taumata Arawai) will be set up this year
Funding will come from both ratepayers and central government.
Through all this change GW keeps a really important interest though as the environmental regulator for freshwater, wastewater and stormwater.
Wellington Water applies to GW for their consents to take water and discharge stormwater and other pollutants.
So one arm of GW has a very important role in making policy and working with consent holders, mana whenua and the community to protect the environment, and mitigate the effects of activities.
At a very basic level stormwater discharges and broken pipes are an ongoing focus for our team because of their impact on water.
All of us – councils, mana whenua and communities – need to recognise Te Mana o te Wai, the health and wellbeing of water, and Ki Uta ki Tai the interconnectedness of nature and water from mountains to sea.
You may have heard of our Whaitua programme? Whaitua is the Māori word for catchment or space, and this part of Wellington City is part of Te Whanganui a Tara Whaitua, as is the Hutt Valley.
The Whaitua Committee for Te Whanganui a Tara is focussed on improving both the health of all the streams and rivers feeding into Wellington Harbour. As you might imagine, Wellingtonians have lost a lot of connection to the myriad of local streams because so many of them are piped underground and we cannot see how what we do might affect their health.
It's for all of us to guide and support the efforts to fix what is broken and lift water quality everywhere around our city.
Eventually this will mean people can trust that they can safely interact with their favourite areas of water, be they fresh or coastal.
We think that it's only through partnerships with Iwi, other organisations and the community that we can eventually bring this about.